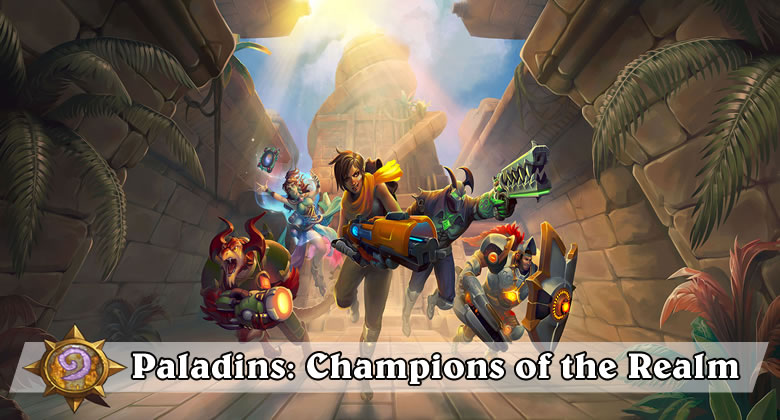 Confira Paladins: Champions of the Realm
Paladins é um jogo de tiro em primeira pessoa, e está disponível para PC, PS4 e Xbox One. As versões para console ainda estão em beta fechado, em open beta para PC e as inscrições para o beta podem ser feitas clicando aqui (para console Sony) e aqui (para console Microsoft).
Sistema de Jogo
Os personagens são separados em dois times com cinco jogadores cada. O objetivo principal é chegar a quatro pontos antes do time adversário, e para tal, é preciso que o time conquiste um ponto e, após isso, leve o carregamento até a base inimiga. Os personagens são divididos em quatro tipos: Dano, Flanco, Suporte e Tanque.
Diferentemente dos seus concorrentes, o Paladins tem um sistema de cartas. Cada campeão pode ter um baralho construído, que adeque-se melhor ao time aliado e/ou ao inimigo. Essas cartas podem ser obtidas por meio de essências.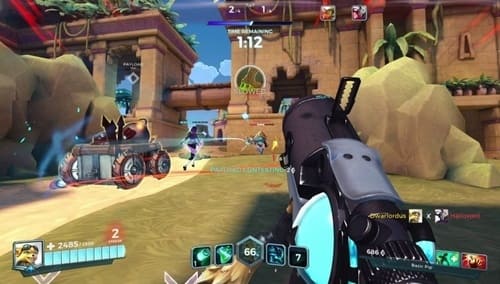 Personagens
Atualmente o jogo conta com 24 personagens, sendo que cada campeão tem armas e habilidades únicas. Eles são divididos em quatro classes, Dano, Flanco, Suporte e Tanque, conforme citado. Mais campeões estão sendo aguardados já nos próximos patchs. Os campeões podem ser obtidos pelo pacote de fundador, que também habilitará gratuitamente os próximos campeões, ou utilizando moedas do jogo.
Evolução e Transações
Paladins tem uma similaridade na evolução dos jogos mobile e de redes sociais. Ao entrar, o jogador recebe uma pequena vantagem gratuita, seja ouro ou cristal. Sendo gratuito para jogar, o Paladins conta com microtransações, e para continuar seu desenvolvimento oferece também compras opcionais como skins, mas sem vantagens na jogabilidade.
Requisitos
Paladins é um jogo gratuito, é bem leve, seus mínimos requisitos são:
SO: Windows XP SP2, Windows Vista ou Windows 7.
Processador: Core 2 Duo 2.4 GHz ou Althon X2 2.7 GHz.
Memória: 2 GB de RAM.
Placa de vídeo: ATI ou Nvidia graphics card com 512MB video ram ou melhor e Shader Model 3.0+ support. (ATI Radeon 3870 ou maior, Nvidia GeForce 8800 GT ou maior)
Armazenamento: 10 GB de espaço disponível.
Placa de som: DirectX compatible sound card.
Se você gosta de jogos cooperativos, com essa temática, vale a pena conferir, Paladins é um jogo em ascensão e constantemente está entre os 10 mais jogados na Steam.