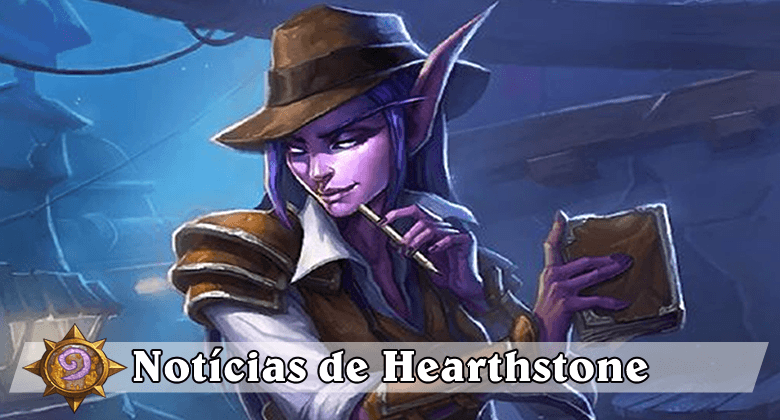 Mudanças no sistema de recompensa de Hearthstone
Muitas reclamações surgiram por parte dos jogadores em relação as recompensas do sistema novo de Hearthstone. Com isso tivemos diversas contas e discussões entre os jogadores, e a empresa nos ouviu, estão nos mostrando os extras dessa nova integração, com as recompensas de evento e vão modificar as recompensas finais por ouro, ao invés de pacotes, o que é bem mais lógico e produtivo, pois ao final do ciclo vem nova expansão.
Em tradução (do google)
Ouvimos seus comentários sobre o sistema de recompensas e está claro que erramos o alvo na forma como comunicamos e implementamos todas as funcionalidades desta primeira versão de nosso sistema de recompensas. Pedimos desculpas pela confusão e decepção que causamos. Durante a progressão natural do ciclo de recompensas, nossa intenção era, e ainda é, distribuir XP extra ao longo do tempo de várias maneiras. O objetivo é ajudar os jogadores a passar pela trilha de recompensas ou recuperar o atraso se eles ingressarem mais tarde em uma fase de expansão, garantindo que os jogadores ganhem mais recompensas. Também não fornecemos detalhes sobre como os eventos se vincularão e apoiarão o sistema de recompensas. Estaremos oferecendo XP de bônus para várias atividades em cada evento sazonal a cada ciclo de expansão, e quaisquer eventos de bônus adicionais conforme necessário, novamente com o objetivo de garantir que nossos jogadores obtenham mais recompensas. Nossa falha em comunicar esses fatores levou a projeções incompletas, pelas quais pedimos desculpas. Além disso, você nos forneceu muitos comentários e concordamos que as recompensas do pacote no final da trilha não parecem apropriadas para o esforço necessário para obtê-las. Vamos ajustar essas recompensas nas fases posteriores da pista, trocando seis packs por um total de 1350 ouro que os jogadores podem gastar como quiserem. Se algum jogador atingir esse marco antes de implementarmos essas mudanças, ele será compensado retroativamente. Nosso objetivo para o Rewards Track continua a ser que todos os jogadores de Hearthstone ganhem mais ouro e recompensas totais por expansão. Continuaremos avaliando o impacto dessas mudanças, ouviremos seus comentários e repetiremos conforme necessário até acertarmos. Manteremos nossa palavra e garantiremos que o sistema corresponda ao que todos acreditamos que Hearthstone merece.
[blizzardquote author="Kerfluffle" link="https://us.forums.blizzard.com/en/hearthstone/t/rewards-track-update/45441″ ]
We have been listening to your feedback regarding the Rewards Track and it's clear we missed the mark both in how we communicated and implemented the full functionality of this first version of our rewards system.
We apologize for the confusion and disappointment we have caused.
During the natural progression of the rewards cycle, our intention was, and still is, to give out extra XP over time through a variety of ways. The aim is to help players get through the Rewards Track, or catch-up if they join later in an expansion phase, ultimately ensuring players earn more rewards.
We also didn't provide any details for how events will link into and support the rewards system. We will be providing bonus XP for various activities at each seasonal event every expansion cycle, and any additional bonus events as needed, again with the aim of ensuring that our players obtain more rewards. Our failure to communicate these factors has led to incomplete projections, for which we apologize.
In addition, you've provided us with a wealth of feedback, and we agree that the pack rewards at the end of the track don't feel appropriate for the effort it takes to get them. We're going to adjust these rewards in the later stages of the track, swapping six packs for a total of 1350 gold that players can spend as they see fit. If any players reach this milestone before we implement these changes, they will be retroactively compensated.
Our goal for the Rewards Track continues to be that all Hearthstone players earn more gold and total rewards per expansion. We'll continue to evaluate the impact of these changes, listen to your feedback, and iterate as needed until we get it right.
We will stay true to our word and ensure that the system lives up to what we all believe Hearthstone deserves.
Thank you,
Ben Lee
Game Director
[/blizzardquote]