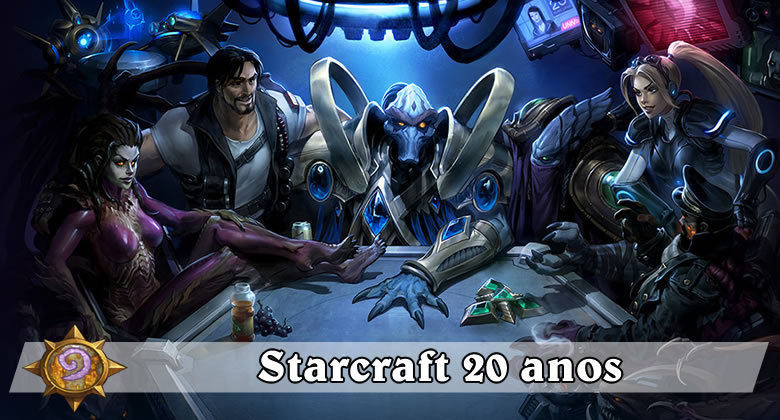 O Jogo Starcraft está completando 20 anos e teremos várias maneiras de comemorar junto!
No dia 31 de Março será disponibilizado um vídeo no canal oficial do jogo no Youtube, com os momentos favoritos de alguns fãs. Além disso, nos dias 30 e 31 de Março, no canal oficial da Twitch, vai rolar uma live com suas personalidades favoritas de Starcraft.
Além disso, os jogos da Blizzard vão nos dar alguns "presentinhos":
STARCRAFT: REMASTERED – Inicio dia 06 de Março
Entre em StarCraft: Remastered para receber um visual de IU comemorativo do 20º aniversário de StarCraft: Remastered.
STARCRAFT II – Inicio dia 06 de Março
Logue no jogo e receba um visual de IU especial de cada raça. Além disso, conecte-se entre 6 de março e 3 de abril para ganhar um Retrato e um Logotipo.
DIABLO III – Inicia dia 06 de Março
Entre no jogo para receber a Vingança da Supremacia, um temível mascote na forma de Cruzador de Batalha.
OVERWATCH – 06 de Março à 03 de Abril
Logue no jogo para receber um visual Sarah Kerrigan Fantasma da Widowmaker.
WORLD OF WARCRAFT – 31 de Março à 06 de Abril
Use o comando /salute para um dos mascotes temáticos de StarCraft (Zergnídeo, Grunhinho, Minithor, Tatu-bomba ou Zeradar ) e receba o Feito de Força "Uma saudação a StarCraft".
HEROES OF THE STORM – 27 de Março à 07 de Abril
Entre no jogo para receber Retratos de 20º Aniversário dos Protoss, Terranos e Zergs.
HEARTHSTONE – 21 à 25 de Março
Jogue uma Contenda de Taverna temática de Starcraft e receba três pacotes de Kobolds & Catacumbas.