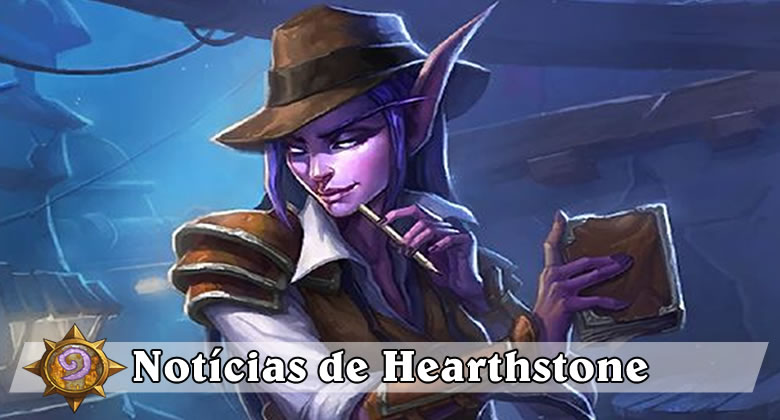 "Me pergunte qualquer coisa" com o time de Design do Hearthstone
Cinco membros da equipe de Design de Hearthstone vão fazer uma sessão de "Me pergunte qualquer coisa" – Ask Me Anything (AMA) – no Reddit hoje às 19h (de Brasília).
O Diretor de Arte, Ben Thompson, junto de alguns colegas e artistas conceituais, um artista de efeitos e um gerente de artes que lida com freelancers/contratos que completam os trabalhos de arte fora da Blizzard.
Você pode adicionar suas próprias perguntas (em inglês) no thread do Reddit.
Anúncio oficial
"AMA will begin at 3pm Pacific Time
Well met, Reddit! We are some of the artists on the Hearthstone team, and we're here to talk to you about the art behind our latest expansion, Knights of the Frozen Throne! We're artists, not card designers, so please ask accordingly.
(Olá Reddit! Nós somos alguns dos artistas do time de Hearthstone e nós estamos aqui para falar sobre a arte por trás da última expansão, Cavaleiros do Trono de Gelo! Nós somos artistas, não designers de cartas, então por favor façam perguntas de acordo.)
Here's a bit about us and our specialties:
(Aqui está um pouco sobre nós e nossas especialidades:)
Ben Thompson Art Director I'm responsible for developing and maintaining a consistent art style of the game from start to finish by leading the team of talented artists below. I'm also very hands-on and have worked on every expansion and Adventure since Hearthstone's launch.
(Ben Thompson – Diretor de Arte – Sou responsável por desenvolver e manter uma consistência no estilo de arte do jogo, do início ao fim, liderando o time de artistas talentosos abaixo. Também gosto de por a mão na massa e trabalhei em todas as expansões e aventuras desde o lançamento do Hearthstone.)
Jeremy Cranford Outsource Art Manager As the outsource art manager, I work with and manage 3rd party artists for card art.
(Jeremy Cranford – Gerente de Artes Externas – Eu trabalho com artistas de fora da Blizz para artes de cartas.)
Hadidjah Chamberlin FX Artist As the FX artist on Hearthstone, I mostly do card FX – spells, minions, legendary animations, etc. – and I've done pack openings, hero skins, and golden cards. Working on FX means I get to work a lot with our design, engineering, and audio folks in addition to the rest of the art team, which is all pretty awesome.
(Hadidjah Chamberlin – Artista de efeitos – como artista de efeitos em Hearthstone eu faço principalmente os efeitos das cartas – feitiços, lacaios, animações lendárias e etc – e eu fiz animações de abertura de packs, skins de heróis e cartas douradas. Trabalhar com efeitos significa que eu trabalho muito com nossas equipes de design, engenharia e áudio, além do restante do time de arte – que é muito massa.)
Jomaro Kindred Concept Artist I work on all visual aspects of the game from concept to in-game assets which include card backs, game boards, card illustrations, UI, effects, and packs. I am also responsible for concepting and exploration for upcoming expansions.
(Jomaro Kindred – Artista Conceitual – Eu trabalho em todos os aspectos visuais do jogo, do conceito até as coisas in-game, o que inclui versos de cartas, mesas de jogo, ilustrações de cartas, interface do usuário, efeitos e pacotes. Eu também sou responsável por fazer o conceito e explorações para as próximas expansões.)
Jerry Mascho Concept Artist I help create the visual identity for the game's cards, card backs, game boards, and other exciting elements of the tavern experience. I've also had a hand in modeling some of the game's boards, card backs, and animations.
(Jerry Mascho – Artista Conceitual – Eu ajudo a criar a identidade visual para as cartas do jogo, versos de carta, mesas de jogo e outros elementos bacanas da experiência na taverna. Eu também dei uma mãozinha modelando algumas das mesas do jogo, fundos de carta e animações.).